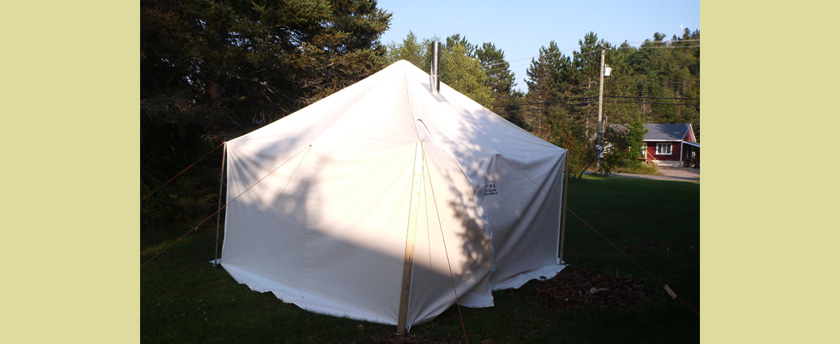 •T•U•K•T•U•
•Here is the ideal tent for quick assembly and dismantling. Thanks to its 5 'walls, it offers the same advantages in terms of space and ease of movement in a tent like the Prospector.
•Because of its pyramid shape it is much more easily heated than a prospector tent and offers excellent resistance to wind.
•Thanks to its 5' walls, the 4 walls can be used to place furniture such as camp beds, table and chairs for space optimisation.
•It has an air vent on the roof.
•The stove can be placed in front of the center to allow use of the 4 walls or on the side as its little sister Alaskan.
•Included clothesline for handy to dry clothes quickly, double head zipper for better air flow, a fiberglass stove cloth and carrying bag.
•Materials : 7 or 10 ounce cotton Sunforger treated. This treatment is flame-retardant, water-repellent and resistant to mold and rot. These cotton have the quality to retain their "natural" cotton properties, ie they breathe well, they condense very little, are light and easy to fold in addition to being compact when rolled.
Description
Price
10' x 10' / 3 m x 3 m • wall 5' / 1.5 m • center peak 8' / 2.40 m • weight 30 lb / 13.5 kg version 10oz cotton • rolled 12x14x22''
1075$
Price applies for the 7 or 10 ounce material, at your choice.
Listed prices does not include taxes and shipping fees,

and may change without notice.

Price list valid until December 31, 2018.

All Tents are hand made in Canada